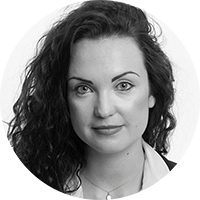 14 April 2022
Fully Comprehensive Step by Step guide to Hybrid Events…
How to optimise the enjoyment and impact, wherever your speakers and audience may be.
Hybrid events and live streaming are not new technology, the concept has been around for years. A TV show with an audience in the studio and at home, the Brit Awards, or a televised football match are all examples of hybrid events.
What is new however, is that in 2022 almost all events are opting for some form of hybrid format and the appetite for more immersive experiences has never been greater. It's an exciting time to be involved in the industry – collaborating, witnessing and shaping a progressive movement.
Whether you are an attendee, organiser, supplier or host – the time to experience and engage in the vast opportunities presented by hybrid is now…. and it's more achievable that you might think.
We have been running a vast variety of conferences, seminars, product launches, exhibitions, training workshops, award ceremonies and more … all as hybrid events. From small local charities to national enterprises and global blue chip companies; hybrid is well within grasp.
The benefits of hybrid are endless and I could write a whole blog on that topic alone, but if you are here and reading this you are more than likely in agreement that hybrid opens doors, breaks down barriers, saves costs and helps the planet!
At Virtual Approval, we have a belief that true hybrid success should be measured on inclusivity and enjoyment of BOTH sets of audiences and BOTH sets of speakers / performers. Unfortunately, many 'hybrid' events on offer in the general market are simply a falsely advertised live stream under the guise of hybrid, meaning that effectively the event is filmed and watched live by an online audience, or a speaker presents via video link, but the event is only really truly experienced by those physically in the room.
While those physically in the room at such events may have a great time watching the content, they can also benefit from all the other factors such as networking, soaking up the atmosphere, asking questions, participating in games, placing votes, eating etc. – all the bits that really stand out and make the event worthwhile attending! Those watching online do not have this experience and leave feeling deflated and excluded, wishing they could have been 'at' the event.
It's time for this waste to stop – hybrid is so much more!! Hybrid holds the key to true sustainability, flexibility and enjoyment – we just need to embrace the notion, and have the conviction to do it right!
With a little planning, support and creativity your event can go from a live event or a live stream, to a fully engaging, all encompassing hybrid event where EVERYONE is seen, heard and immersed. If this is what you too envisage for your event and all of your stakeholders, then read on to find out how…
Step 1: Plan your Dual Track Agenda
There are lots of reasons why I advise to start here as 1st base… basically if you know your agenda items, that information will feed into the rest of the planning and will allow you to make better decisions about all the other components such as venues, AV equipment, software, entertainment; always with both sets of audiences and speakers at the forefront of your mind so nobody is left out.
If you have just decided to put on an event and you have decided on the purpose, message and desired outcome; it's likely that the first thing on your implementation 'to-do' list is to book your presenters / facilitators / performers / host, and crucially – to set the date. This will all still stand, but bear in mind that if your event is hybrid, you can invite more high profile or geographically distant guest speakers and presenters as they don't need to physically be at your venue in order to deliver their presentation / training / content.
Once you have your speakers decided, you probably have a good idea of who should be the finale headliner and what order to put the others in, or if you want to spread them out across multiple stages and breakout rooms. Now it's time to step back and look at the agenda for each room and overall, imagining yourself as a delegate roaming around experiencing the event at any given time in the programming. Once you have done this and imagined where the breakout areas will be, sponsor booths, networking gaps, food hall or lunch break, coffee lounge, entertainment, photo booth, feedback forms, goody bags, dancing, games etc.; now it's time to do the same but imaging yourself as an online delegate and doing the same things and having all the same opportunities.
If you think of the agenda as a train, transporting your audience on 2 parallel tracks, with evenly distributed power to propel it along in comfort and style; you can then ensure that at every point there is a considered component for each audience.
For example, if you plan to have a photo booth on site, build in the same capability in to the virtual platform for your online audience – and if applicable encourage both audiences to tag themselves in on social media. If you plan to provide food and drinks to the physical audience, could you send food / drink / recipes to those at home? If there will be sponsor booths in the room, can these be available online? If you plan to use a flip chart, whiteboard or some sort of voting, this will need to work for the online audience too. Will it be possible for your online audience to submit questions, raise their hand and speaker to the presenters during Q&A sessions? The list goes on… each event will be unique in it's format, so for a bespoke consultation give us a shout; but don't be afraid to think outside the box and plan in a few surprises for your audiences' enjoyment.
My advise would be, plan your agenda exactly how you want it for one of the audiences fist, then factor in the transference to the other track, for maximum impact. Don't get bogged down in the 'how' at this stage, chances are it's all possible with a little creativity.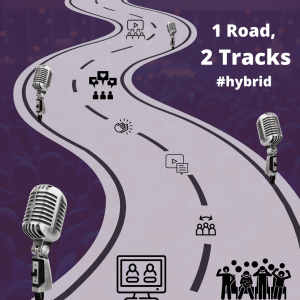 Step 2: Venue Sourcing (x 2)
I've said it before, I'll say it again – the SINGLE MOST IMPORTANT factor when selecting a venue to host your hybrid event is the internet connection. By this I mean, the speed both ways (upload and download), contention ratio (who else in the vicinity is using the same connection), security (can it be interrupted and can it be accesses via machines your tech team is brining to site or is it locked by IT so you won't be able to connect external machines) and stability (is it likely to fluctuate with the time of day). The most notable reason why live streams and hybrid events fail drastically is that they don't have the core foundation of connectivity nailed on. Some likely impact of poor connection from the venue will be your live stream isn't watchable, the audio and picture breaks up or freezes, your speakers and audience can't be seen or heard in the room. Basically, it just won't work.
Some quickfire questions to ask all your potential venue before you commit: –
Is there hardwired or wifi connection?
What is the upload and download speed?
Is it a dedicated line for the meeting facilities or shared line for the entire premises capacity?
What AV equipment is included in the room hire and price list for extras?
Is there a back up network if the main connection fails?
What is the access path to the event room (stairs / lift / any accessibility issues)?
Of course you will have many more, but do factor these few in as they will determine the limitations (or not) of your hybrid event.
The virtual venue (platform)
Just as your physical audience need a place to sit and watch the show, network and be entertained or trained; so too do your virtual audience. There are literally hundreds of virtual event platforms out there and they have different nuances, designs, features and reliability.
Don't get tangled in a conundrum, my top tip would be to be ambitious with the production and experience but keep things simple to use for your delegates – and don't take on the platform build yourself if it's not within your skill set / day job.
There are some really great budget DIY platform like Remo, Hopin, Hubilo, ON24, Airmeet or Intelligo but do bear in mind they will require you to do a lot of the build work in terms of inserting your graphics, videos, logos and text to the templates (or you can get someone like us to do this fr you).
There are some amazing managed solutions with 3D capabilities and full customization such as Inconf and Sparq, which come with a price tag to reflect the level of design and support.
You may find that you can achieve a lot, or all of what you want simply using Zoom and an entry point webpage to house your pre and post show content – this keeps it user friendly and budget friendly. Have a chat with us to discuss – we are fully independent of any platform and can advise on the right fit for you, then manage the platform build and implementation if you need, or not.
Make a list of what features you would like (hint – you will know this from step 1 when you thought about the agenda ?). Things such as custom designed stage, breakout rooms, networking, chat, polling, sponsor area. Then decide on your budget, as this will be a major factor too.
Don't be surprised if you need to reenvisage some aspects of the platform to work within the budget or you find that you choose one over the other for simplicity and reliability. In many cases, we use a combination of entry platform, Zoom and 3rd party interactive software – this way you are not limited by one solution and can enjoy the best reliability and production, without the high price and risk of one single platform. Great tech is all well and good, but it's only great when it works and your delegates are there to enjoy the event not solve a puzzle or get frustrated by a virtual maze – unless your event is an escape room, then fill your boots 😉
Step 3: The Equipment – Tech is King
If you really want to break down barriers and bring everyone together at your event, empower your whole audience to have a voice and make their stamp; you will need some tech to create those multi directional channels of sight and communication.
I tend to break this down into 2 parts: hardware and software. Let's start with the hard stuff….
When you have established your event venue (and the high speed internet connection!), it's time to map out the audio visual equipment you will need in the room.
First thig to consider is camera angles – the more you have, the more depth and variety you can create in shots and keep the interest and connection of your online participants.
As a minimum, we recommend to have: –
Wide angle shot, positioned at the back of the room
Close up shot (camera with good zoom capability) to capture the stage / presenter / performer in detail
Return shot to capture the reaction, questions, applause and faces of the audience
A switcher and professional operator (to line up shots, control the cameras and flick between them for a smooth broadcast)
These are the basics, you could of course go further for even better angles and production such as adding more cameras down the sides of the room, roaming cameras, ceiling cameras…. If your event features lots of movement, effects and action, you will certainly benefit from more cameras.
The more shots and angles, the better the viewing quality.
Put simply, cameras are the biggest factor – they will make the difference between your online audience watching something that resembles You've Been Framed 1997 filmed on your dad's wobbly camcorder; or the Bafta Awards live from Hollywood.
The next component to your outward broadcast is the audio in the room. How will your online audience hear the goings on in the room? Again, the more microphones you can factor in the better in terms of a multi dimensional experience.
As a minimum we recommend is for each presenter to have a lapel mic and then a hand held mic placed on each table or runner(s) to move around the crowd with microphones. Additional mics to should be placed around the room to capture atmospheric noise.
You can reduce the number of microphones or put a singular mic on the stage as a stand or lectern mic, but this will not suit the style of a more dynamic presenter who likes to move around the stage. Additionally there will be problems if your speakers and not used to being on stage and using a mic and they simply won't know how to use it correctly. The number and type of microphones needed will be quite dependent on your content, for example of you have a panel discussion vs a live singer / dance act you will require different audio set up so best to seek advice.
Now that you have considered the AV in the room, ensure you give the audience online equal treatment in order to open those communication channels so you can see and hear them in real time like a true extension of your participants right there in the room. If you plan to have a Q&A session or allow you audience to speak and react to content on stage, your online audience should have the same opportunity if they are to feel included.
This will be achieved by factoring in couple more very achievable tech bits: screens and speakers.
If you pick a video conferencing or virtual event platform with a large gallery view of webcam feeds from your audience, such as Zoom, Teams or Webex; it's fairly easy to display the gallery around the room and see the faces of the online audience right there with you. This way you or the presenter on stage can now see the reactions of the entire audience – online and in person, and see instantly if they are laughing, excited, engaged, bored or zoned out… it's all crucial feedback in terms of pace and delivery. Additional bolt-ons such as confidence monitors will even allow us to show the presenter on stage when someone in the virtual audience raises their hand or wants to volunteer to go on stage.
Finally, the 4th technical equipment component is the speakers. Standard venues will not come with enough speakers to project the voices of those online – both presenters and audience, so add on a few speakers for good measure.
You'll then need a technical team on site to manage the AV, as it can become a little complex especially if you are not used to the equipment.
Whilst all this production may seem extreme and costly, remember you are not just creating an event for the here and now, you are creating everlasting collateral, footage and memories – which can be shared, compressed, edited and reused for years to come. So a little investment can go a long way.
The trick to mastering hybrid production is to remember at all times your 4 VIP perspectives –
The stage acts (presenter / performer) in the room
Stage acts online
Physical Audience
Virtual Audience
Personally, I think of them all as VIPs to place equal significance on their experience and remind myself that each one should have a show designed just for them. When a virtual presenter is speaking for example, the virtual audience will require a different camera and audio mix compared to the audience in the room.
Step 4: The Software
Now on to the soft stuff…. The cuddly, kinesthetic, reaching-through-the-screen stuff that will really bond your 4 VIP sets, if given a little bit of thought. We've all been there, you're listening to a presentation and find yourself drifting from focus… gradually thinking about a chore, or a deadline, an unrelated topic or just your stomach as it approaches food time. Then 'BAM' all of the sudden the presenter requires you to do something and you're back in the room. This could be anything from type in the chat, vote in a poll, play a game, scribble some notes down, do a breakout activity. The chances are this will be the bit that is anchored in your memory when you think back to the event retrospectively, because even a small amount of adrenaline from an outside of comfort zone thought, conversation or action, will have a profound effect on memory.
So make sure to incorporate some interactivity in your event for maximum impact. Think of the activity first and try to source the tech afterward, or adapt the exercise to make it work in a hybrid setting. There are some great tools out there for collaboration and interactivity in the virtual and hybrid scene, some of our favourites are: –
Miro
Mural
Ahaslides
Kahoot
Crowdpurr
Slido
Mentimeter
The list goes on…. So decide on the objective first, then the exercise, then the software to match
There may be no need to overcomplicate and you may find that you can achieve your exercise or ice breaker within your VC platform… Zoom now has a lot of functionality built in such as match the pairs and rank the order quiz questions as well as polls, so check out what's there at your disposal before you embark on 3rd party software licenses, or seek advice from our team of course.
Step 5: Rehearsal, Set Up & Testing
Finally, it's nearly time to see the fruits of your labour blossom as the curtain lifts on the event.
The final days are the most important when it comes to preparing for an enjoyable event, so use them wisely and give yourself, your venue, the presenters / acts and your technical team time to get acquainted with the agenda and step through each component.
Depending on the duration of your event, the level of complexity and production, you will most likely need to book your hybrid venue for at least 1 day before the event, maybe 2 or 3 days. If your event starts later in the day, a single day may suffice; but more prep time always equates to less stress and more enjoyment, so factor it in and chat to your event manager if you are unsure.
In this lead up time your AV team can install the equipment and test on premise ahead of the big day. Your speakers can rehearse and familiarize, which is more important now than ever – they may have spoken at hundreds of events both live and virtual, or event hybrid; but they will need to get to know YOUR event: the layout of the room, the configuration of the screens, how they will see and control their presentation, see the virtual audience and engage in conversation; not to mention they may want to run through the content of their segment to ensure everyone is happy with the topics covered.
Don't Compromise, Go Hybrid
In summary, these 5 steps are the foundation to hybrid event success. As with any event, there are decisions to make along the planning journey, but the end result is more than worth it.
Your hybrid event has the potential to reach far beyond any you have done before, and engage everyone more than they ever anticipated, with long lasting impact on memory and enjoyment of everyone there – both physically and virtually.
For help with your hybrid plans, give us a call for a no nonsense chat. We're passionate about adding the 'sparkle', helping you to create moments to be proud of.